Ward Conference Center
Ward Conference Center Complex includes the Friendship Chapel, Ward Conference Center, and Calvary Lodge. Guests may reserve the entire complex or any portion to suit their needs.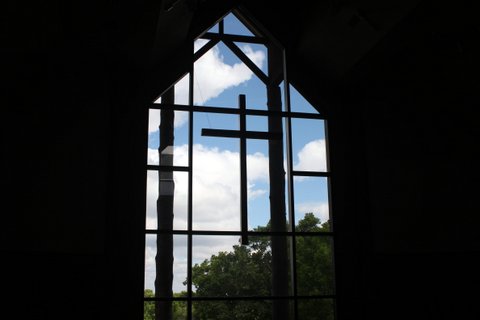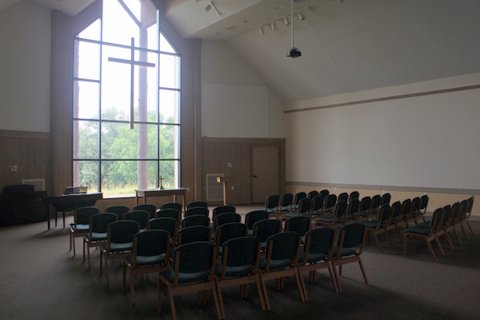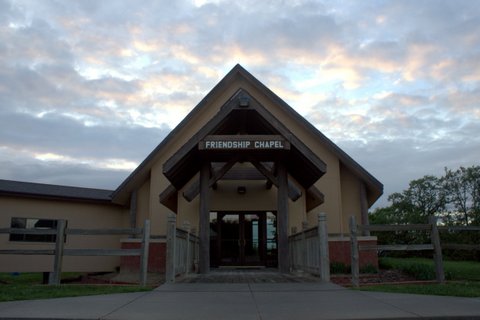 Friendship Chapel
The inspirational Friendship Chapel has a beautiful window overlooking the camp's rolling wooded hills.  With seating for 100 people, it is the ideal location for worship, meetings, or weddings.  AV equipment and wireless internet are available.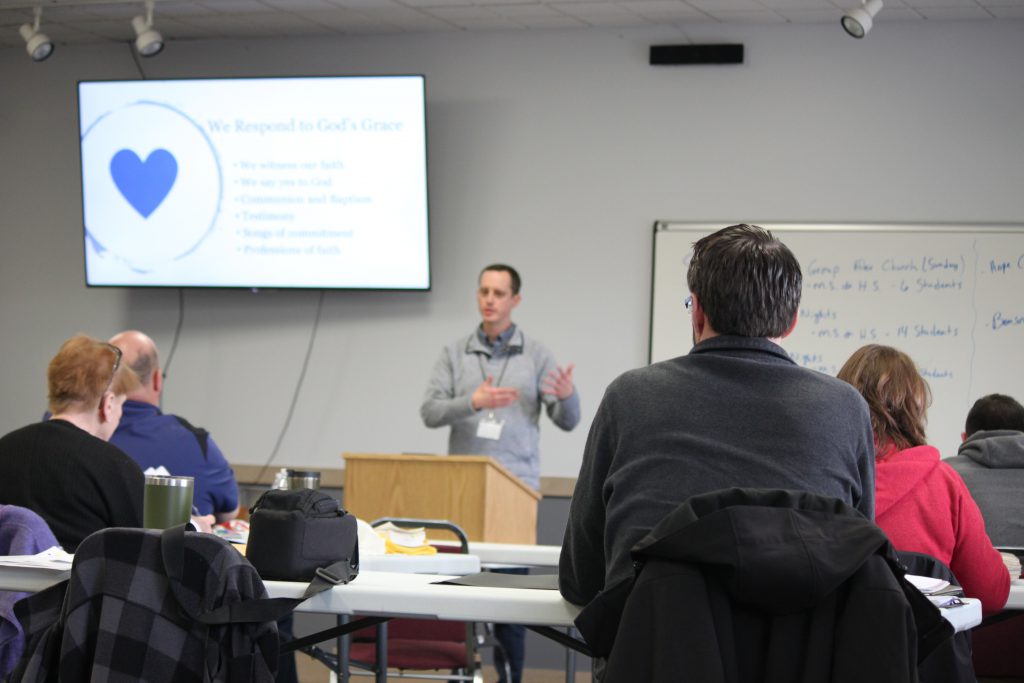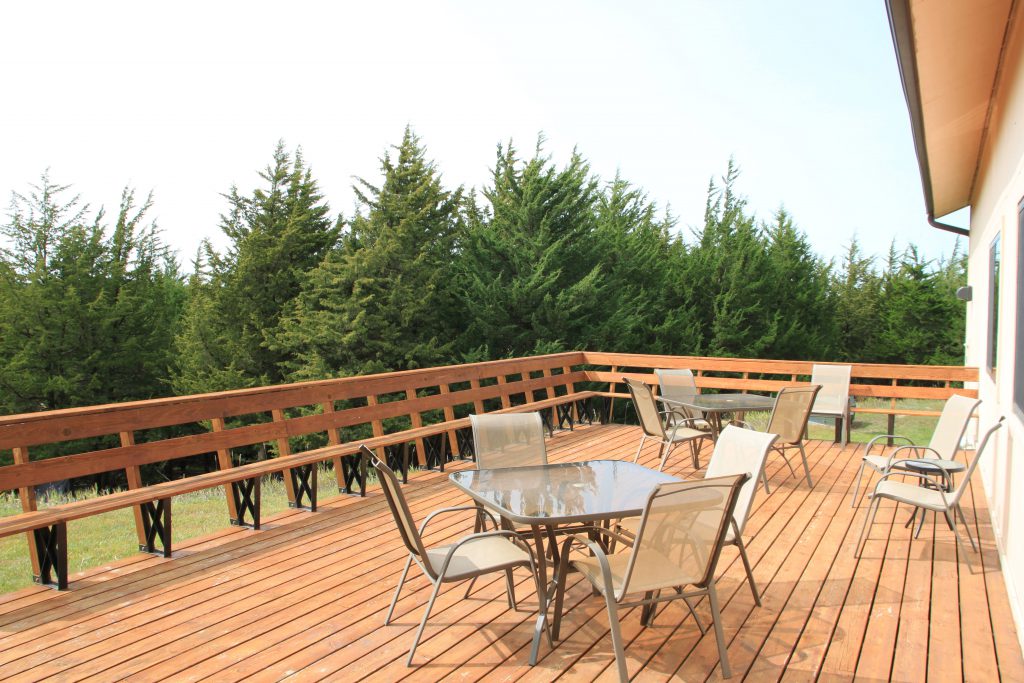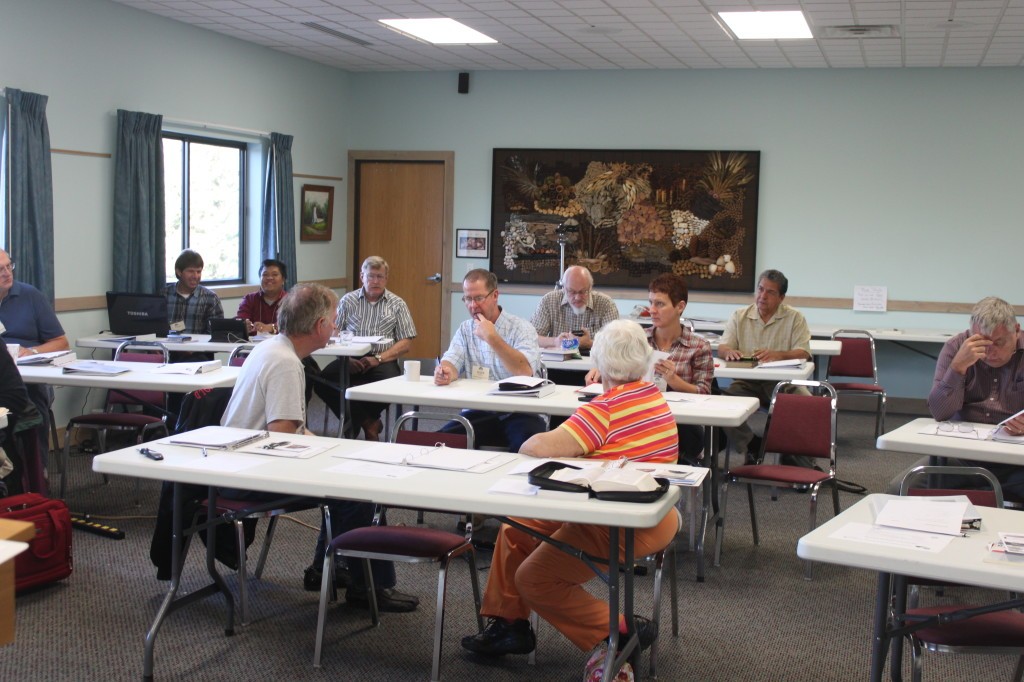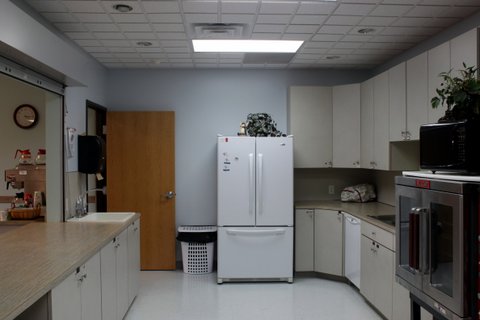 Fullerton Conference Room
Hold your seminar, retreat, conference, or family reunion in our conference center. The conference room can be arranged to accommodate a variety of event needs and seats 50 people comfortably at tables. The conference center also includes a small kitchen and lobby area for gathering or registration.  Enjoy the beauty of the great outdoors on the deck or down at the campfire.  Full meal service is available at Weaver Hall or brought to you at the conference center. AV equipment, marker board, and wireless internet are also available.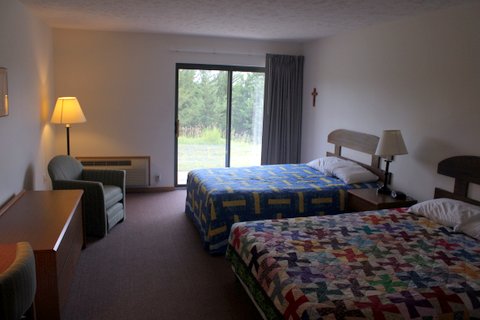 Calvary Lodge
Enjoy the comfort of our spacious lodge rooms.  Three rooms are furnished with three twin beds and seven rooms have two queen beds. A handicap accessible room is available with one queen bed and one twin bed.  There are private restrooms in every room. The patio door in each room allows guests to step out onto a patio and enjoy the outdoors.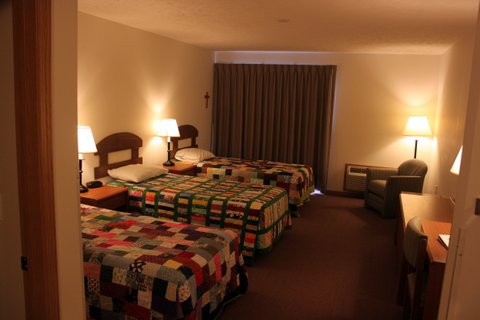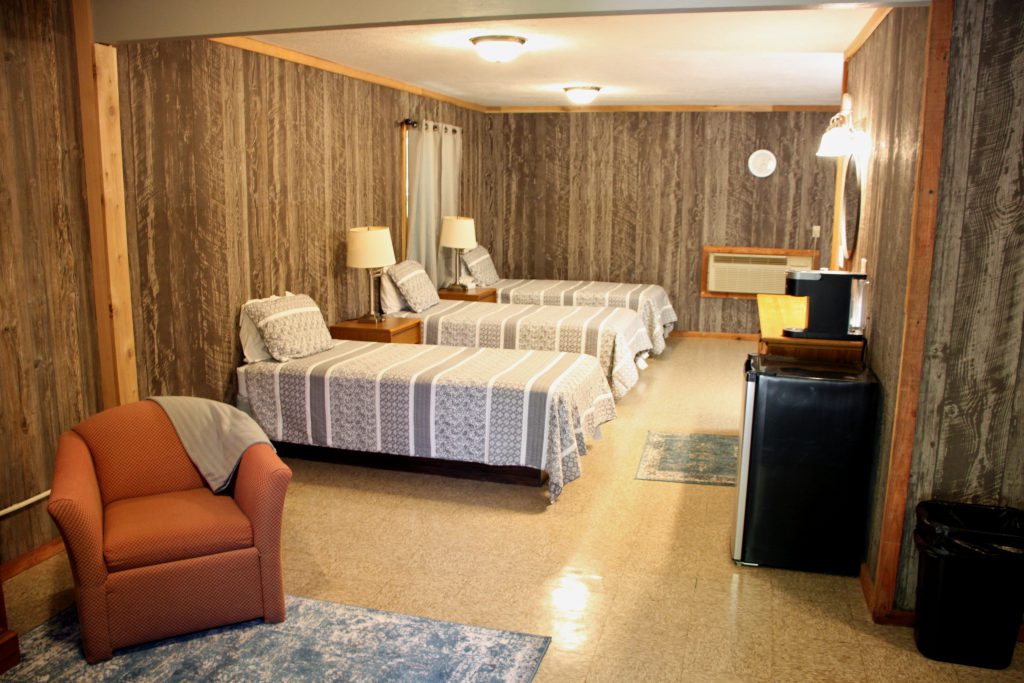 The Cottage
Located near the Conference Center the Cottage provides a comfortable modern option as overflow for Calvary Lodge. It will sleep up to 6 guests in twin beds. Guests will enjoy the gathering space with a cup of coffee or a cold beverage from the mini fridge.  The modern restroom with showers, heating and air conditioning make the cottage available most of the year. Linens are provided.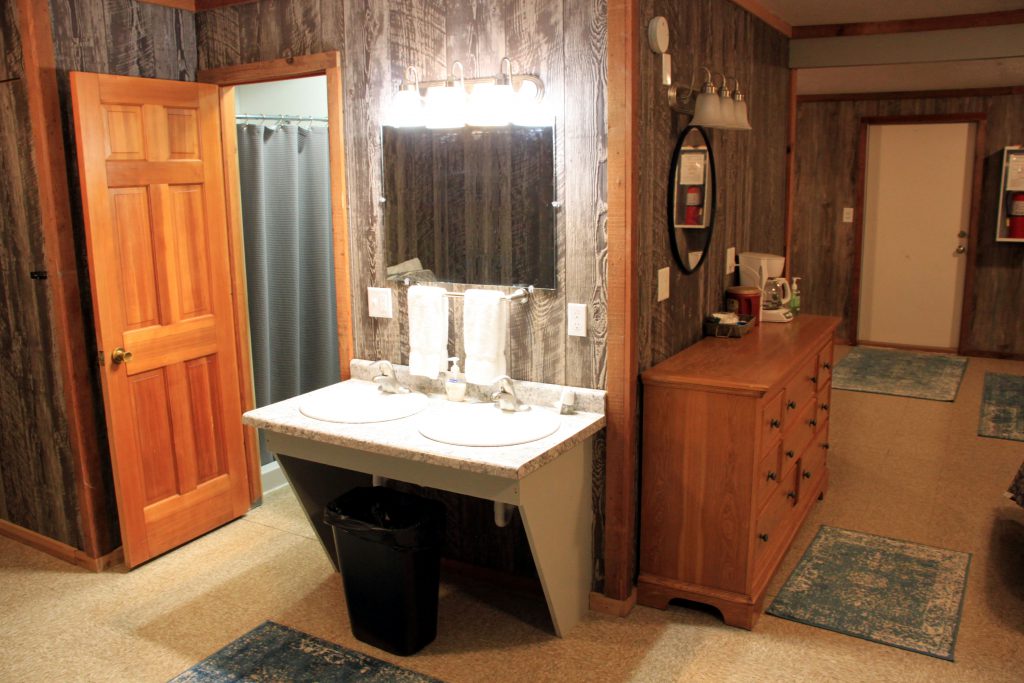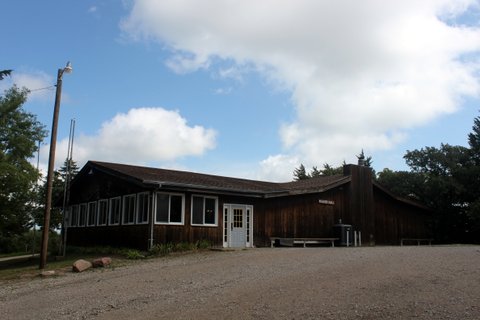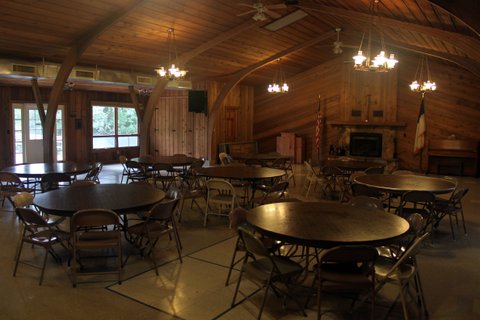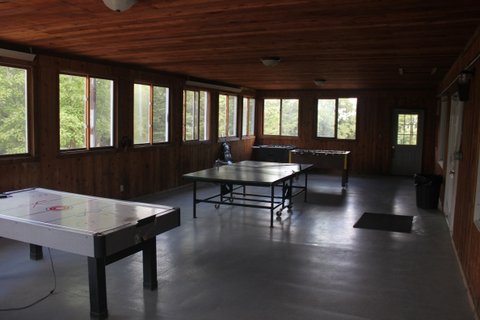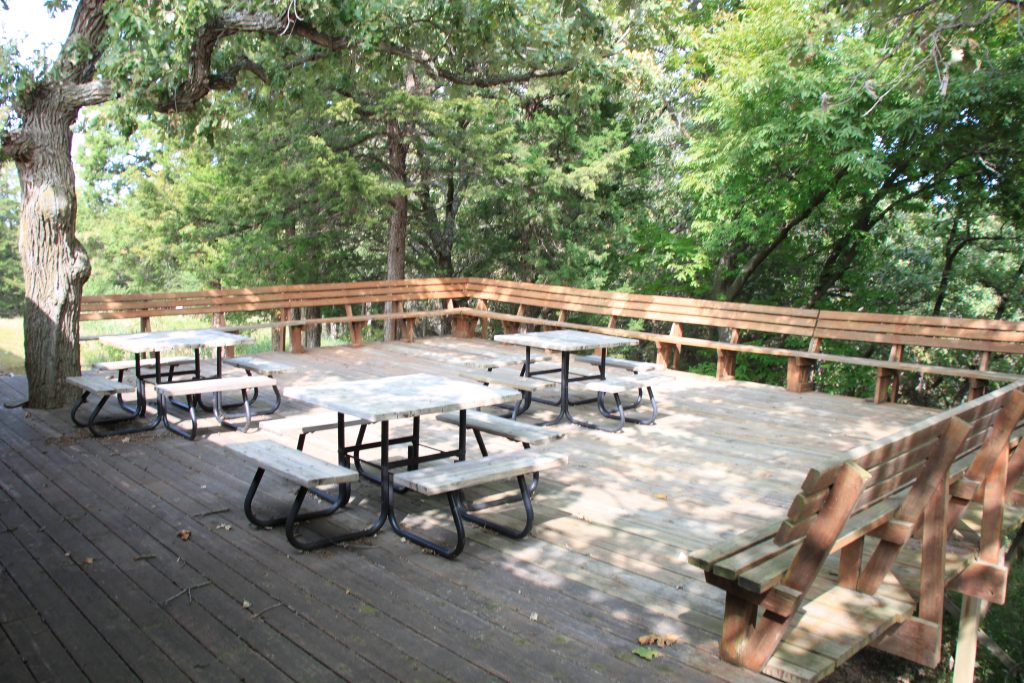 Weaver Hall
Weaver Hall is centrally located in the cabin complex.  The large dining hall can be arranged to accommodate a variety of uses.  The fireplace and rustic design add to the charm.  A large deck off the hall offers guests the opportunity to enjoy the beautiful outdoors.  Full food service is available.  The "rec porch" is located at Weaver Hall and provides guests with indoor games.  AV equipment, marker board and wireless internet available.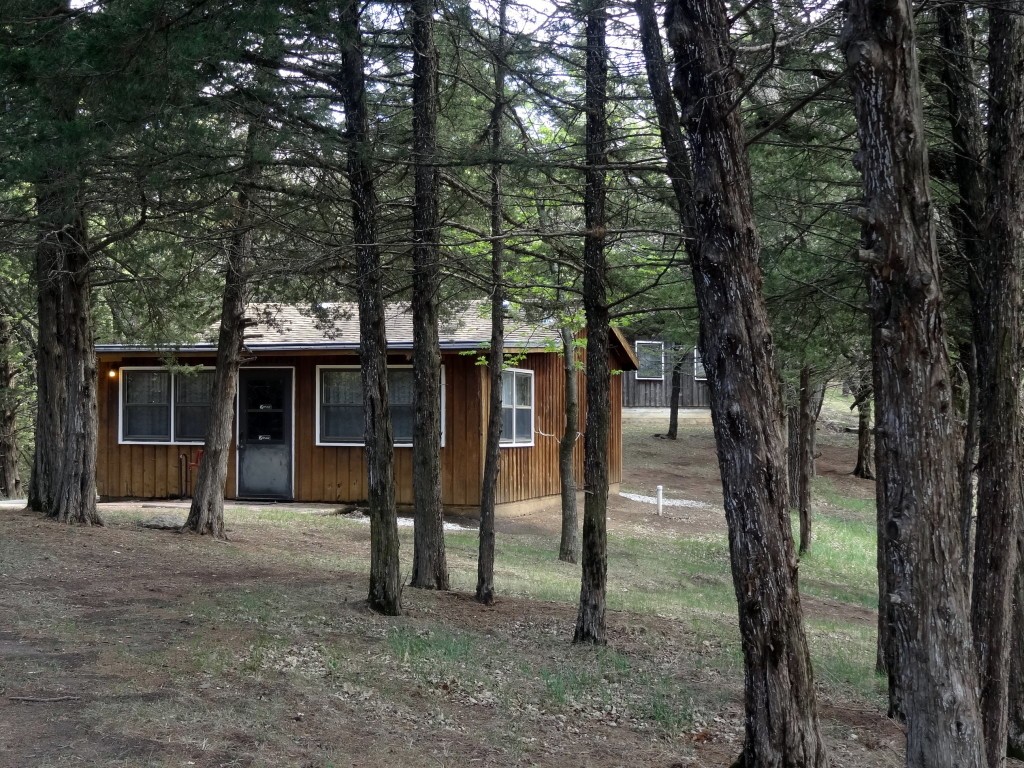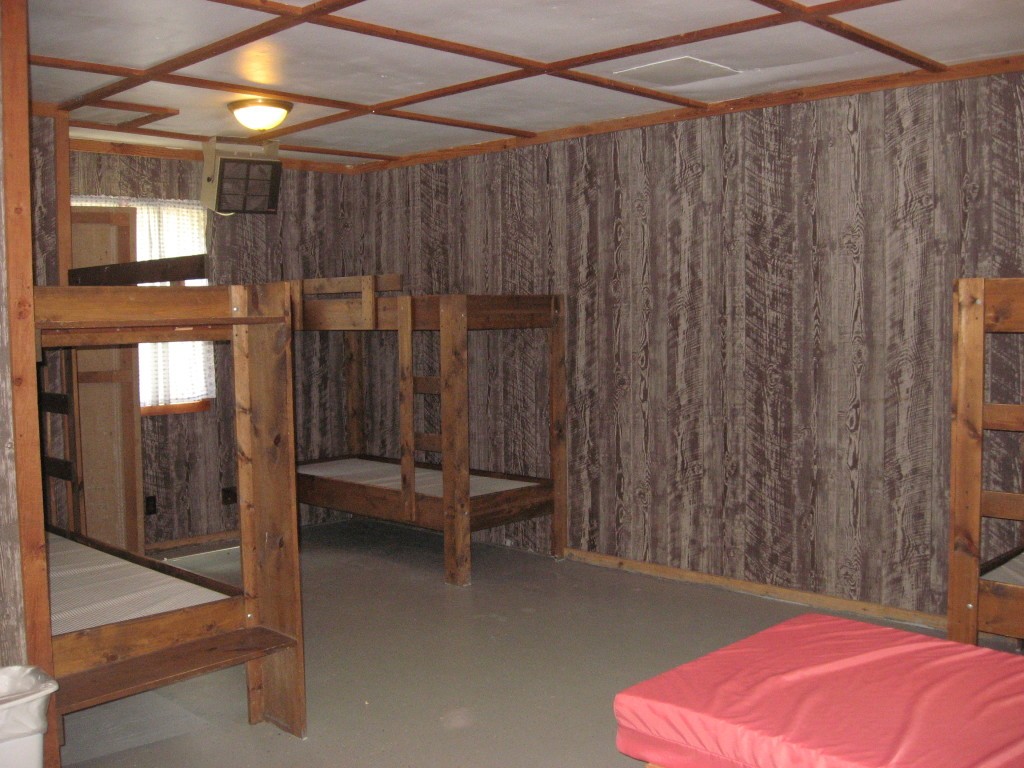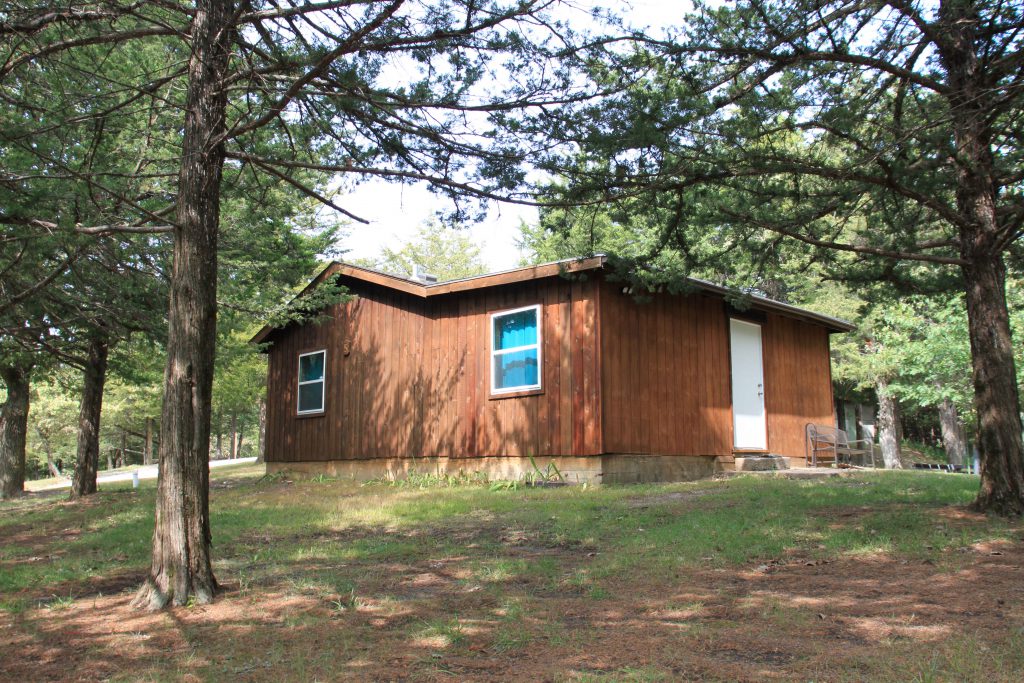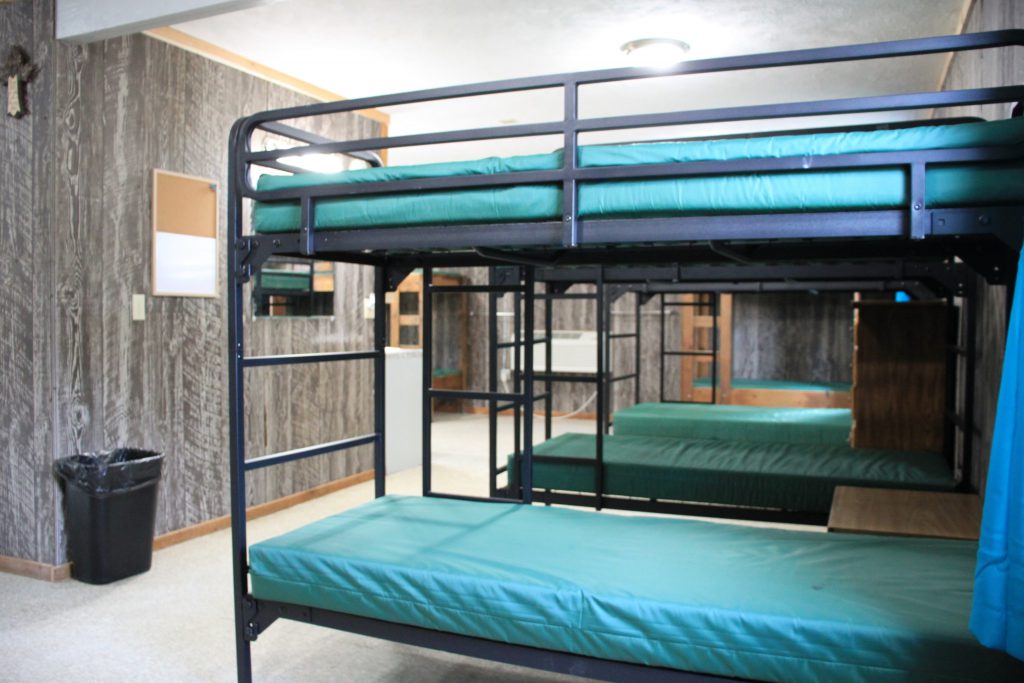 Cabins
Nestled among the trees are 9 rustic cabins. We are currently in the process of updating our cabins. Our updated cabins will sleep 16 in bunks, and the remaining original cabins will sleep up to 10 people with 4 bunk beds and 2 twin beds. A restroom with a shower is located in each cabin. Heating and air conditioning make them available most of the year.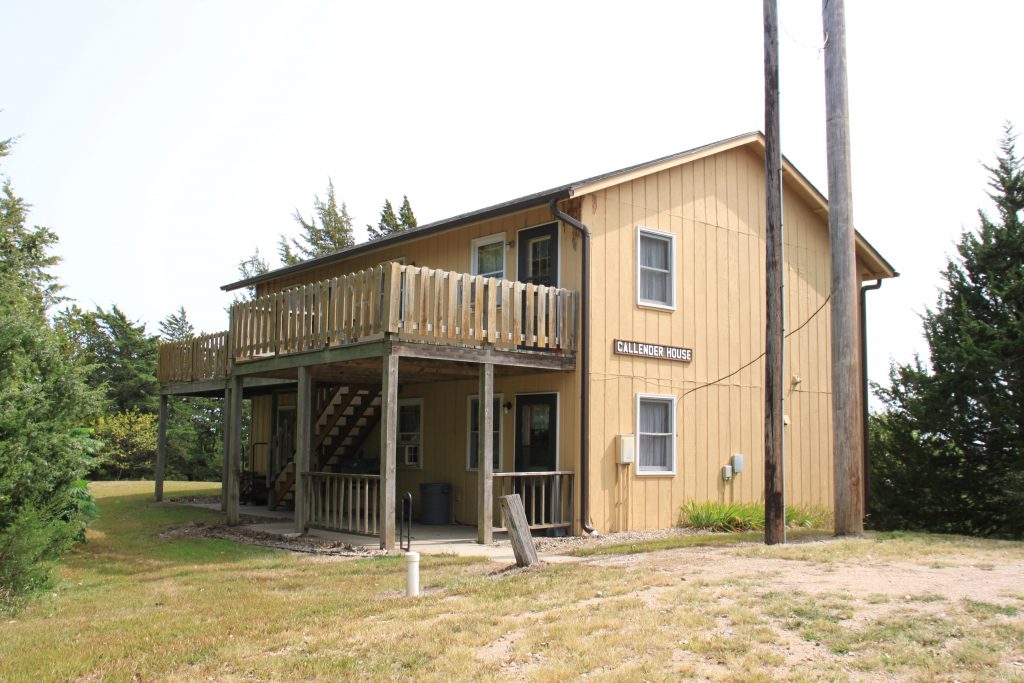 Callender House
Up on the hill, close to the Palmyra Building, you will find Callender House.  Each floor of this 2 story house has 3 bedrooms, a living room, kitchenette, and a restroom with a shower.  The bedrooms are furnished with 1 full bed and 1 set of bunk beds. Each floor will sleep 11 people with linens and towels provided.  Guests may reserve one or both floors.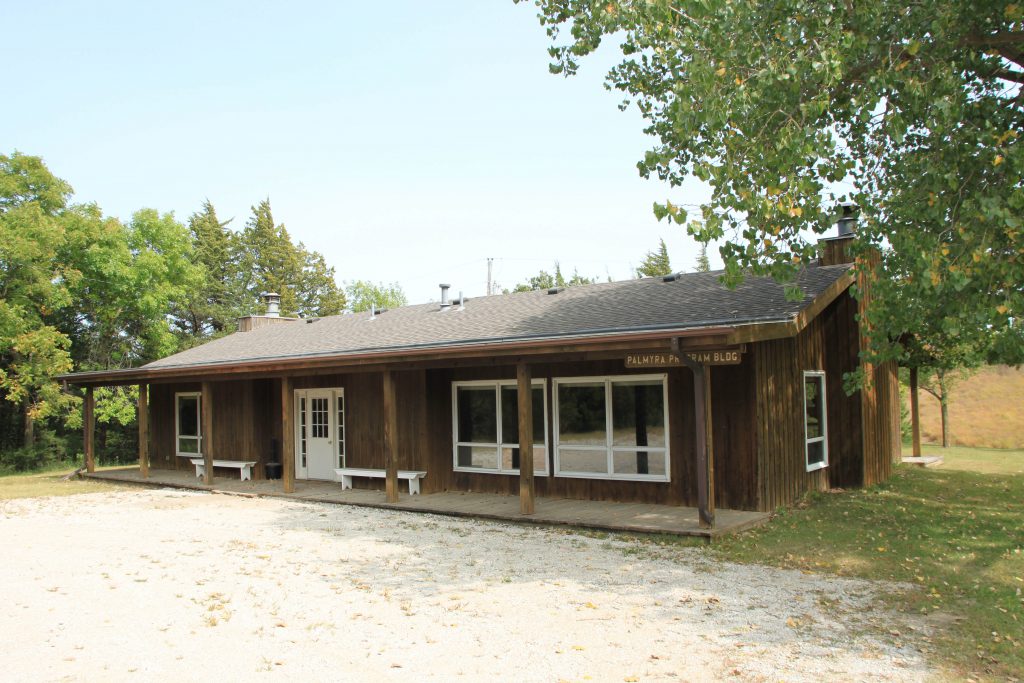 Palmyra Building
The Palmyra Building is a great meeting space for a small retreat, family reunion, or gathering of any kind.  Two meeting rooms are divided by a kitchenette and restrooms.  The larger room can accommodate 50 people seated at tables.  Both rooms have fireplaces to add to the charm.  Step out onto one of the porches or stroll to the nearby amphitheater.  A campfire ring and picnic tables are right outside.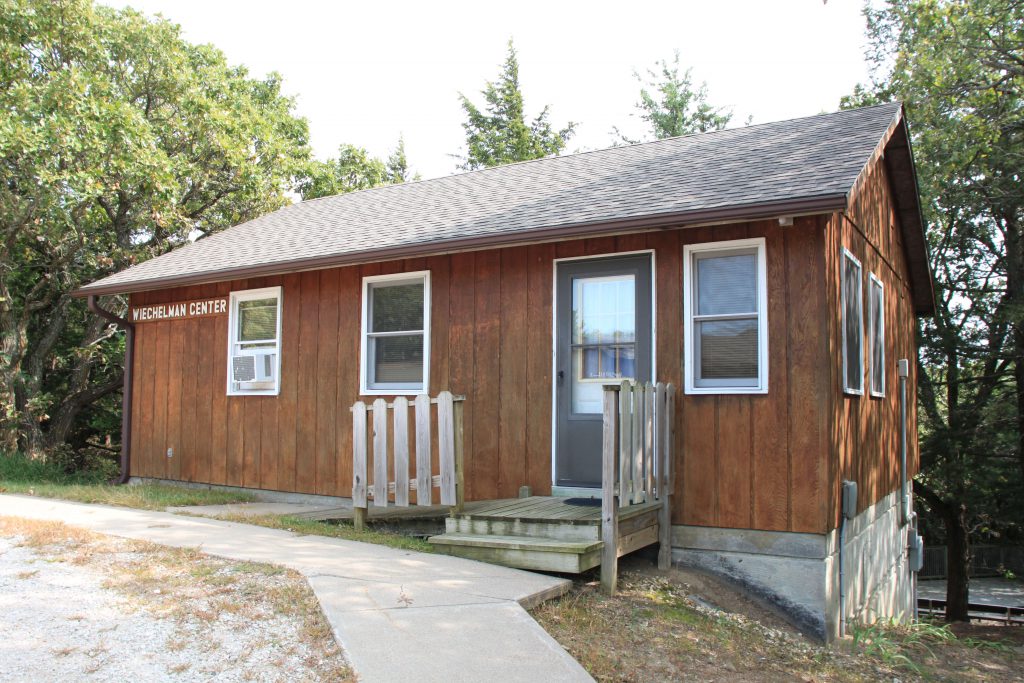 Wiechelman Center
The Wiechelman Building features 3 or 4 bedrooms with a restroom and shower.  Linens are not provided, but available.  This facility can be used as a staging area for groups using the Smith Amphitheater.  It is located in the cabin complex near Weaver Hall.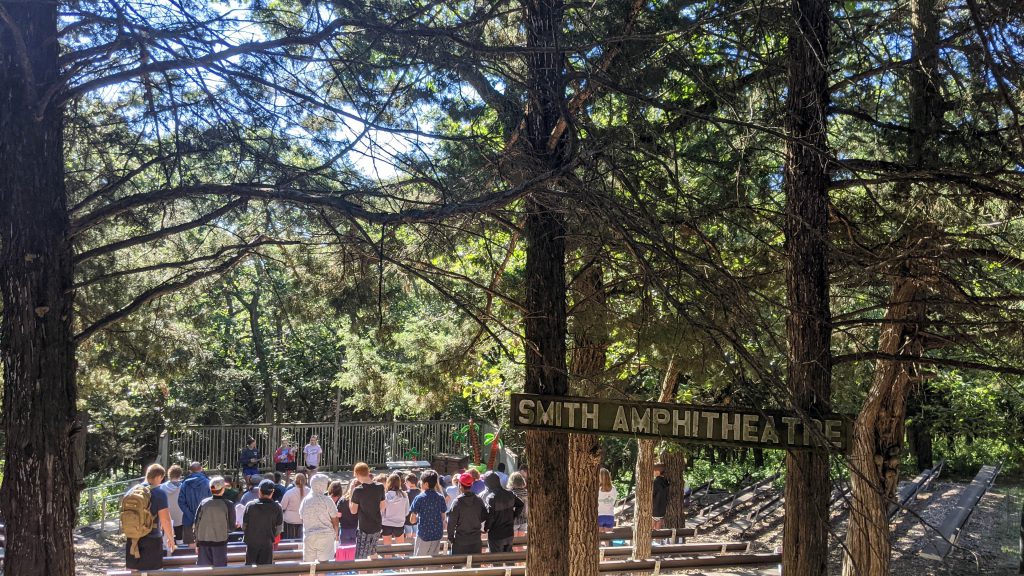 Smith Amphitheater
This beautiful outdoor setting has modern bench seating for up to 125 people.  The wooded backdrop to the full size stage make it an ideal setting for worship or an outdoor workshop.  You will truly experience God's beauty while here.  It is located in the middle of the cabin complex.
Pavilion
A large covered pavilion is located just across from the Conference Center.  It is ideal for a church or company picnic, a concert, or a basketball tournament.  Lights and outlets make it usable any time of day.