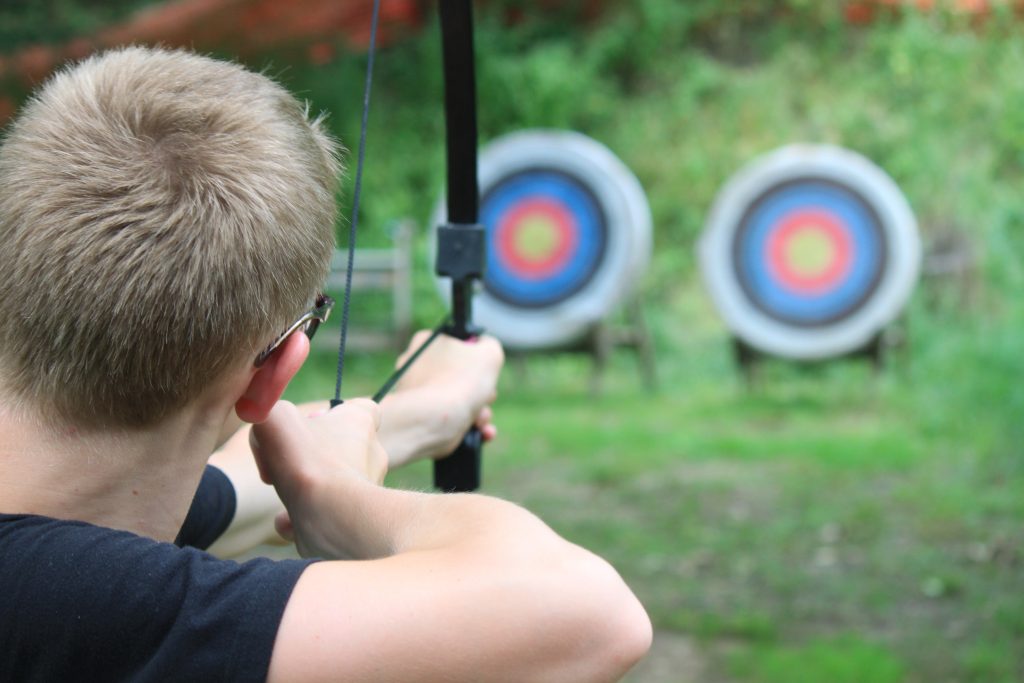 Camp for the Whole Family
Bring the whole family! Quality time together without the distractions of everyday life is what Family Camp is all about. There is something for all ages.  Your family will bond during devotions, worship and of course campfires. Enjoy time playing outdoor games, swimming, hiking and so much more.
Family Camp III
Dates: August 3rd – 5th 2018
For campers of all ages
Check in time: Friday 6:00-7:00 PM
Check out time: Sunday 10:00-11:00 AM
Family Camp Pricing
Facility                          13 –adult         4-12             3 and younger
Cabin/RV                     $100                  $50              $10
   Bedding/Towels NOT provided
Calvary Lodge            $120                   $60              $10
   Bedding/towels provided
*Cost is per person
**Early Bird discount does not apply to these camps.
Register for Camp
To register for summer camp please follow the link below and fill out the online registration form. If you have any questions about camp please contact us.
[vc_btn title="Register for Camp" style="flat" color="warning" size="lg" link="url:http%3A%2F%2Fcampmerrill.com%2Fhome%2Ffamily-camp%2Fregister-for-family-camp%2F|||"]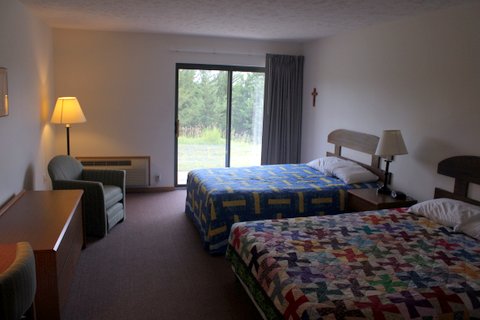 The Lodge
Enjoy the comfort of our spacious lodge rooms.  Three rooms are furnished with three twin beds and seven rooms have two queen beds. A handicap accessible room is available with one queen bed and one twin bed.  There are private restrooms in every room. The patio door in each room allows guests to step out onto a patio and enjoy the outdoors. The twin lodge rooms will sleep a family of three and the queen lodge rooms will sleep a family of four. Families with infants may bring their own crib or pack and play for their infant to sleep in. Larger families that register for the lodge may be assigned a second room.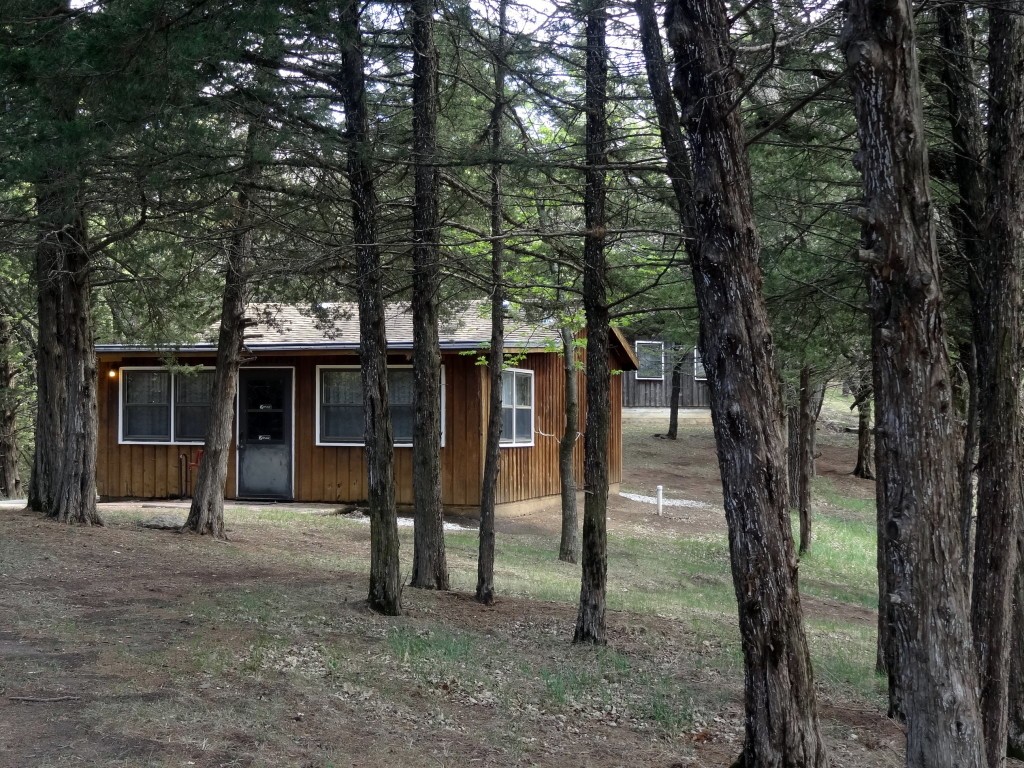 The Cabins
Nestled among the trees are 10 rustic cabins.  Each cabin will sleep up to 10 people with 4 bunk beds and 2 twin beds.  An enclosed porch gives guests a gathering space with a view of the woods.  A restroom with a shower is located in each cabin.
Family Camp at Moses Merrill
Family Camp is a great opportunity for you and your family to get away and spend time in God's creation. Every summer campers of all ages spend time having fun, making new friends, and growing in faith. We invite you to join us this summer for an unforgettable experience.
Frequently Asked Questions
What happened to Primary Camp?
We have replaced our Primary Camps with our Family Camp Program. Family Camp is open to all our primary campers and their Parents/Guardians and Grandparents. All who have attended Primary will be able to continue coming to Moses Merrill to enjoy camp as they always have in the past. The biggest change will be that the rest of your family can attend as well. From your newborn to the grandparents all family members are welcome to attend camp together.
Is camp safe for my family?
Camper safety is our number one concern. We take it very seriously and we want to reassure your children are safe at Moses Merrill. Here are a couple of the big steps we take to ensure your children are safe.
A Well Trained Staff
Every single member of our staff receives extensive training to ensure that your family is safe while at camp. Our staff is also trained to make your families experience the best it can be. From silly songs to games and activities they know how to make camp fun!
A Safe and Fun Environment
All of our activities are designed to be safe as well as fun. We take every precaution to ensure your children have a safe environment to explore and enjoy. Our staff is trained to run and maintain every activity. Camp is always fun and we ensure it is safe as well.
Community Expectations
We ask that while at camp all campers abide by the camp rules. We want to create a caring environment that allows campers to have fun and make great memories. We take this very seriously and we work hard to make sure everyone is treated with respect.
How do I get to camp?
What should I bring to camp?
Family Camp Packing List
Your Bible
Sleeping Bag or sheets/blanket (for Cabins)
Pillow
Towels & washcloths
Soap, shampoo, deodorant, toothbrush/paste, etc
Sunscreen and insect repellent
Long pants (recommended for zip line)
Closed-toe shoes (tennis shoes or boots….required zip line)
Clothes for warm, cool and wet weather (shirts, shorts, jacket, rain poncho, etc.)
Socks, underwear, and pajamas
Swimwear (modest please)
Flashlight with fresh batteries
Water bottle
Camera (optional)
Snack Shack money
Sunglasses
What to leave at home
Snack food (food in cabins encourages bugs and mice)
Skateboards and roller blades
Any valuables  you would regret losing
What will my family do at camp?
A typical day at camp looks like this:
8:00 am – Breakfast: Eggs? Bacon? Yes Please!
9:00 am – Chapel: Hear from our speaker while your kids enjoy Bible class.
10:00 am – Morning Activities: Go for a hike, relax at the pavilion, or take the kids to archery there are many different activities to choose from.
12:00 pm – Lunch: Enjoy great food and get ready for fun times!
1:00 pm – Afternoon Activities: Swimming, GaGa Ball, wagon rides and so much more.
5:30 pm – Dinner: Wind down with the whole family.
6:30 pm – Chapel time: Enjoy worship, teaching, and great speakers.
7:30 pm – Evening Activities: Enjoy the night swim and many other great evening events.
9:00 pm – Campfire: Camp songs, great times, and s'mores !
Meaningful Bible Teaching and Worship
Every day families hear from amazing speakers. They share Bible stories, life lessons and Scripture so that every camper may grow closer to God! We will sing hymns, worships songs and silly camp songs. Bible classes for kids will also be available.
Exciting Activities
We offer many different activities supervised by our trained and wonderful staff. From crafts to zip-lining and swimming to hiking there is always something you and your children will love! We work hard to make sure everything is safe and fun. Find out more about our activities here.