Music And Drama (MAD) Camp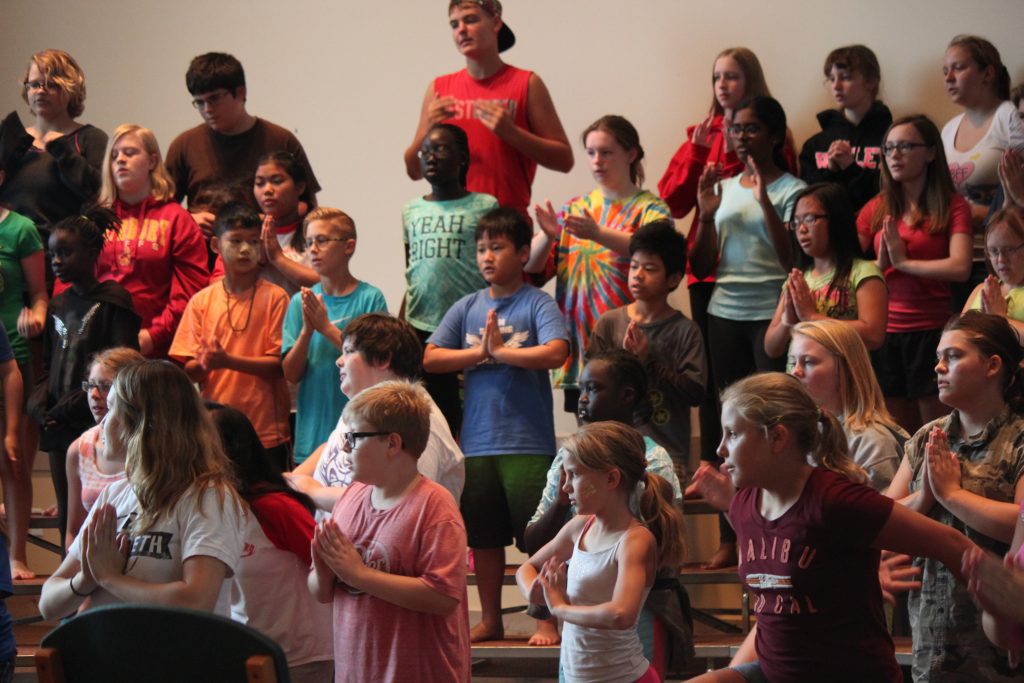 Music and Drama
This week of camp is packed full of all the regular camp stuff, but then we throw in some music and acting and a performance on Friday evening.  Campers are given the opportunity to use their God given talents, learn to perform for a live audience and has A LOT of fun along the way.  Yes, there will still be time for swimming, campfires, games, zip lining, and more!  Bring a friend. For more information checkout the FAQ below.
MAD Camp
Dates: June 24-29 2018
Ages: For campers entering 4th-12th grade
Registration Fee: $250
Receive the Early Bird discount by registering on or before May 15th and take $25 off!
Check in time: Sunday 3:00 PM
The MAD performance begins at 6:00 PM on Friday. You and you family are invited to attend and watch the campers show off their hard work. Check Out will follow the performance.
Register for Camp
To register for summer camp please follow the link below and fill out the online registration form. If you have any questions about camp please contact us.
[vc_btn title="Register for Camp" style="flat" color="warning" size="lg" link="url:https%3A%2F%2Fcampscui.active.com%2Forgs%2FMosesMerrillCampConferenceCenter%3Fseason%3D2201901|||"]
Youth Camp at Moses Merrill
Youth Camp is a great opportunity for camper to get away and spend time in God's creation. Summer campers of all ages spend time having fun, making new friends, and growing in faith. We invite you to join us this summer for an unforgettable experience.
Frequently Asked Questions
Is my child ready for camp?
Many parents wonder if their child is ready to spend a week away at summer camp. Children and parents may have some anxiety and we understand why! Your child is precious to you and sending them to camp is a big decision.
Ultimately parents know their children best so they will know better then anyone if their child is ready. However, as you make this decision let us help you think things through.
How will your child do away from home?
Often the biggest worry is how your child will do away from home. We make every effort to ensure campers are safe and happy at camp. Camper safety is our number one concern.  We also offer shorter sessions called JAM Camps for younger children so that the time away isn't so long! Another option is Family Camp, a great opportunity for the whole family to come to Moses Merrill!
Is your child old enough?
We offer sessions for children as young as 1st grade. Each session is designed to meet children at their level. We offer safe activities suited for each age group and our Bible teaching is presented in a way that each age group will understand. Our staff also revives training so that they will be prepared to make your child's time at camp the best it can be!
What about the parents? Are you ready?
Sometimes the kids are ready for camp before the parents are! We want you to feel confident in your decision to send your child to camp. Please read through the rest of our frequently asked questions. If there is anything else you want to know get a hold of us! We would love to speak with you personally so please Contact Us.
Will my child be safe at camp?
Camper safety is our number one concern. We take it very seriously and we want to reassure you that your child is safe at Moses Merrill. Here are a couple of the big steps we take to ensure your child is safe.
A Well Trained Staff
Every single member of our staff receives extensive training to ensure that your camper is safe while at camp. We do a thorough background check on every member of our staff. Each staff member is trained to lead in various emergencies so that in the case of inclement weather or any other disaster your child will be kept safe.
Our staff is also trained to make your child's experience the best it can be. From silly songs to games and activities they know how to make camp fun!
A Safe and Fun Environment
All of our activities are designed to be safe as well as fun. We take every precaution to ensure your child has a safe environment to explore and enjoy. Our staff is trained to run and maintain every activity. Camp is always fun and we ensure it is safe as well.
Community Expectations
We ask that while at camp all campers abide by the camp rules. We want to create a caring environment that allows campers to have fun and make friends. We do not tolerate any form of bullying. We take this very seriously and we work hard to make sure everyone is treated with respect.
How do I get to camp?
What should I bring to camp?
Camper Packing List
Your Bible
Sleeping Bag or sheets/blanket
Pillow
Towels & washcloths
Soap, shampoo, deodorant, toothbrush/paste, etc
Sunscreen and insect repellent
Long pants (recommended for zip line)
Closed-toe shoes (tennis shoes or boots….required for zip line)
Clothes for warm, cool and wet weather (shirts, shorts, jacket, rain poncho, etc.)
Socks, underwear, and pajamas
Swimsuit (modest please…one piece for girls preferred)
Small bag to carry swimwear to the valley
Flashlight with fresh batteries
Water bottle
Camera (optional)
Snack Shack money ($20- $30 is what most parents send)
Prescription medication (in original bottle with instructions)
Sunglasses
What to leave at home
Over the counter medicine
Cell phones & electronic devices (CD player, games, IPods, Radios, etc.)
Inappropriate clothing (t-shirts with inflammatory language, revealing clothing)
Pocket knives, guns (water or other), or any dangerous items
Snack food (food in cabins encourages bugs and mice)
Skateboards and roller blades
Any valuables you would regret losing
What will my camper do at camp?
A typical day at camp looks like this:
8:00 am – Breakfast: A great start to every campers day!
9:00 am – Cabin devotions/cabin clean up: Time for a clean cabin and a moment in the Word.
10:00 am – Chapel time: From worship to a great speaker chapel is a blast.
11:00 am – Morning activities: Time to learn how to shoot a bow and arrow or many other exciting classes.
12:00 pm – Lunch: Fuel up for a fun afternoon.
1:00 pm – Horizontal Hold: A short rest time to recharge.
1:30 pm – Afternoon Activities: Swimming, Basket Ball, Snack Shack, and so much more!
5:30 pm – Dinner: Great food and good times.
6:30 pm – Chapel time: More time to spend learning about God.
7:30 pm – Evening Activities: Capture the flag anyone?
8:30 pm – Snacks: One word, S'mores!
9:00 pm – Campfire: Fun songs and powerful testimonies.
9:30 – 11:00 pm – Bed time (varies by age)
Meaningful Bible Teaching and Worship
Every day campers hear from amazing speakers. They share Bible stories, life lessons and Scripture so that every camp may grow closer to God! Campers will also sing hymns, worships songs and silly camp songs. I can almost guarantee you will hear many camp songs for years to come!
Exciting Activities
We offer many different activities supervised by our trained and wonderful staff. From crafts to zip-lining and swimming to hiking there is always something your camper will love! We work hard to make sure everything is safe and fun. Find out more about our activities here.
How can I contact my child?
Every day at dinner, campers receive mail from friends and family. You can send your camper snail mail or an email. Please put your campers name on any mail or in the subject of all Emails. Find our contact info here.
In case of an emergency we want to do everything we can to help. Call our office at 402-666-5639 or contact our Program Director cell phone at 402-810-1310.